Kirk S. Johnson
Licensed Professional Counselor, MA, LPC, LAC, CSAT, EMDR, RRT
Helping People Find Purpose
"The only normal people we know are the ones we don't know very well." Alfred Adler, Psychotherapist
Kirk Johnson may have taken his time and many roads along the way to discover his life's passion as a counselor, but, as the old adage goes, "all roads lead to Rome."
Yet, with that being said, of course, his "Rome" was not built in a day.
The path that got Kirk to where he is today has been long, winding, and scattered with all of life's highs and lows along the way. Yet, it was through his own recovery that brought him into this profession.
Becoming a Licenced Professional Counselor hadn't been on Kirk's radar. After his minor league baseball career came to an end, he started working for an international engineering company with their business development. All the while, no matter how challenging that engineering job was, a piece of him was dying every time he went to work. However, what he loved and found to be incredibly rewarding was volunteering his time at various treatment centers and AA meetings in the evening as his way to give back.
Kirk wanted to give back to his community and those in recovery because he's been there, too. It took him a while to admit to himself and others that he had a problem with alcohol, but in 1993 he decided to seek help. He was sober for six years but relapsed in 1999. After three more years of struggling with his alcohol addiction, Kirk decided to do his own trauma and addiction work and truly embrace recovery. That was 19 years ago and counting.
In 2005, at the age of 40, Kirk decided to go to graduate school to become a full-time counselor. While in school, he did mandated client treatment and graduated with top honors in 2010. He is now an affiliate professor and travels around the country running workshops for treatment centers in addition to seeing his clients at South Platte Counseling.
Kirk started South Platte Counseling in 2015 after years in private practice. His goal for all his clients is to help them find true passion in life, to understand what feeds their soul, and to help them find meaning and purpose.
Trauma work is Kirk's specialty, and he has a heartfelt desire to help people with dual-diagnosis, like those struggling with mental illness and substance abuse/dependence. So instead of needing to go to different specialized counselors for treatment, Kirk can work with his clients on both sides of the issue. Seeing people overcome their struggles and become who they want to become is a gratifying part of his career.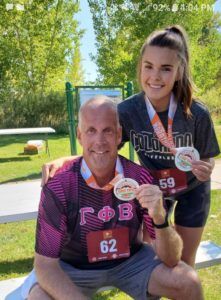 Kirk emphasizes a client's relationship with their therapist, and forming a good connection with your counselor is imperative to success in therapy. Kirk has a genuinely warm, honest, and sincere manner, and his clients are motivated to change their lives. They're the type of people who understand and realize how they've been managing on their own is no longer working for them. They are willing to go through some pain and struggle to work through the trauma and disturbances in their lives.
Above all, Kirk believes in the power of healing. If someone is willing to come in and do the work and sit through the discomfort of looking back at the past and how it's affecting them now, he knows they can overcome anything. Through facing their trauma, they can achieve healing. Kirk wants to help his clients and everyone at South Platte Counseling reach their full potential.
Kirk knows the best counselors are the ones who have had real struggles in their lives, have done (and continue to do) their own therapeutic work, and "walk the walk." Who can better understand your troubles than someone who's been there, too? That's why he's taken great care and time selecting the honest, empathetic, and caring therapists he works alongside at South Platte Counseling. Everyone "walks their talk" and comes from a commonplace of understanding. Kirk's most essential point for anyone seeking therapy is that it isn't a sign of weakness but the ultimate sign of strength.
Although becoming a much sought-after trauma and recovery counselor was never on his "to do" list during his baseball career, the road that led Kirk to open South Platte Counseling was a complex and adventurous one.
He's found his life's true passion and ultimate calling, helping people find healing and reaching their full potential.